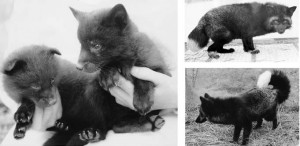 American Scientist magazine has published an interesting article written by Lyudmila Trut about an experiment conducted on a fox farm studying candid domestication.
Foxes bred for tamability in a 40-year experiment exhibit remarkable transformations that suggest an interplay between behavioral genetics and development.
Article Excerpt:
Belyaev designed a selective-breeding program to reproduce a single major factor, strong selection pressure for tamability. He chose as his experimental model a species taxonomically close to the dog but never before domesticated: Vulpes vulpes, the silver fox. Belyaev's fox-breeding experiment occupied the last 26 years of his life. Today, 14 years after his death, it is still in progress. Through genetic selection alone, our research group has created a population of tame foxes fundamentally different in temperament and behavior from their wild forebears. In the process we have observed some striking changes in physiology, morphology and behavior, which mirror the changes known in other domestic animals and bear out many of Belyaev's ideas.
Read the complete article at American Scientist online.