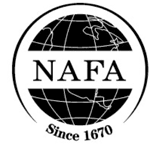 Members of the U.S. Fox Shipper's Council include all fox ranchers who market their fox pelts through North American Fur Auctions (NAFA). NAFA currently handles three million North American ranch mink, 2.5 million European ranch mink, ranch fox and all varieties of wild fur including beaver, raccoon, sable, muskrat, wild mink, lynx, lynx cat otter, red fox, and coyote.
NAFA is the largest seller of ranch-raised fox in North America.
North American Fur Auctions' principal business is the sale of raw fur pelts. The pelts are received on consignment from producers of ranched-raised furs and harvesters of wild furs. The fur pelts are sold to fur garment manufacturers and fur pelt dealers worldwide. The Company is the largest fur auction house in North America, and the third largest fur auction in the world.
If you have ranch-raised fox which you may be interested in selling through NAFA, contact the designated representative for your area. Their representatives will be happy to provide you with important information on how to sell your furs through NAFA.
View NAFA's Rancher Receiving Dates
The Auction
Fur consignments are sorted by the company according to type, size, shade, color and quality, and offered for sale at auction or by private treaty. Auctions are conducted several times each year in Toronto, Canada.
Attendance at auctions is international, with representation from the world's major fur markets, which includes China and Korea in the Far East; Russia and Eastern Europe; the Western European centres of Greece, Italy, Germany and the UK; and the North American markets of New York, Montreal and Toronto. Customer support is drawn from the fur manufacturing and merchandising communities, who may be represented by brokers or agents. All buyers must be credit approved prior to participating in an auction. A buyer fee is charged on each auction purchase to cover the grading, cataloguing and auction services provided by NAFA, which include: auction catalogues; porter services; meals (breakfast and lunch); wireless internet access; telephone and fax services.
NAFA Gold Fox Label
NAFA sells its fur pelts under the NAFA quality brand label and conducts a significant international advertising and promotion program for its NAFA brand in partnership with its customers and world renowned fashion designers. Learn more about Studio NAFA and their focus on utilizing ranch fox and other specific furs in modern fashion trends.
NAFA Gold Fox is the ranched fox quality equivalent of NAFA Gold Mink. As in mink there are many natural fox colors but certainly NAFA is best known for its collection of dramatic NAFA Silver Fox. Our Fox is unique in the world for its shorter nap, deep under wool and silky texture.
Buyers can VERIFY LABEL AUTHENTICITY on NAFA's website.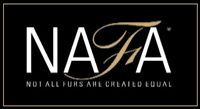 NAFA's Locations
NAFA's corporate head office and auction facility is located in Toronto, Ontario with a satellite office in Winnipeg, Manitoba.  NAFA's U.S. head office, grading facility and pelt processing operation is located in Stoughton, Wisconsin. NAFA also has a state-of-the art grading facility in Poland and a European mink representative office in Holland.
To learn more about NAFA, visit their website at www.nafa.ca.
North American Fur Auctions. Content retrieved April 15, 2012 from http://nafa.ca.